Date: 9 Sep 2023
Further details will be added closer to the date.
Fees:
Online Entry Link:   https://www.webscorer.com/register?raceid=316779
Race Directors: Grant Pepper Doug Hodson 0417 938 596 nangachallenge@gmail.com
NANGA CHALLENGE 2023
Event Date: 9 Sep 2023
Event Location: CHUDITCH campsite, Lane Poole Reserve, Dwellingup. All transition areas will be at CHUDITCH campsite this year.  CHUDITCH is located directly OPPOSITE Island Pool rapid on the SOUTH side of river, and is accessed by crossing single lane bridge on Nanga Road, NOT GOING THRU ranger station at park entry, (as Bob's Crossing will likely still be closed after high water levels), and follow signs from the Nanga Brook / Mill areas.
Disciplines: River paddling in moving water including a couple of small rapids, mountain biking and a cross-country run.
Course Options: There are THREE course options for 2023. There is the "Nice" which is a 8k paddle, 15k ride and 10k run and there is the "Nasty" which is a mean 12k paddle, 23k ride and 13k run. The "Nasty" course will test competitors for between 4 and 5 hours. There is a NO PADDLE option, a DUATHLON comprising a 23km MTB and a 13km cross-country run. There is also a NO RUN option, a DUATHLON comprising AN 8KM Paddle and a 23km MTB. For the first time we are offering an ADVENTURE PAIRS category. This is aimed at adventure racers who have not paddled before and people who have no Adventure Race experience. Participants will compete in Pairs. There will be a compulsory reconnaissance of the paddle leg the weekend before and a guided run of the MTB leg. Prospective entrants who do not own paddle craft can borrow double sit-on top [very stable] surf skis.
Categories: Ironman/woman, Pairs (completing the entire course together), Relay teams of 3, Duathlon Solo, Duathlon team of 2 [No Paddle or No Run], Adventure Pairs [Craft supplied or provided]
Our 2023 Focus Charity: WA Wildlife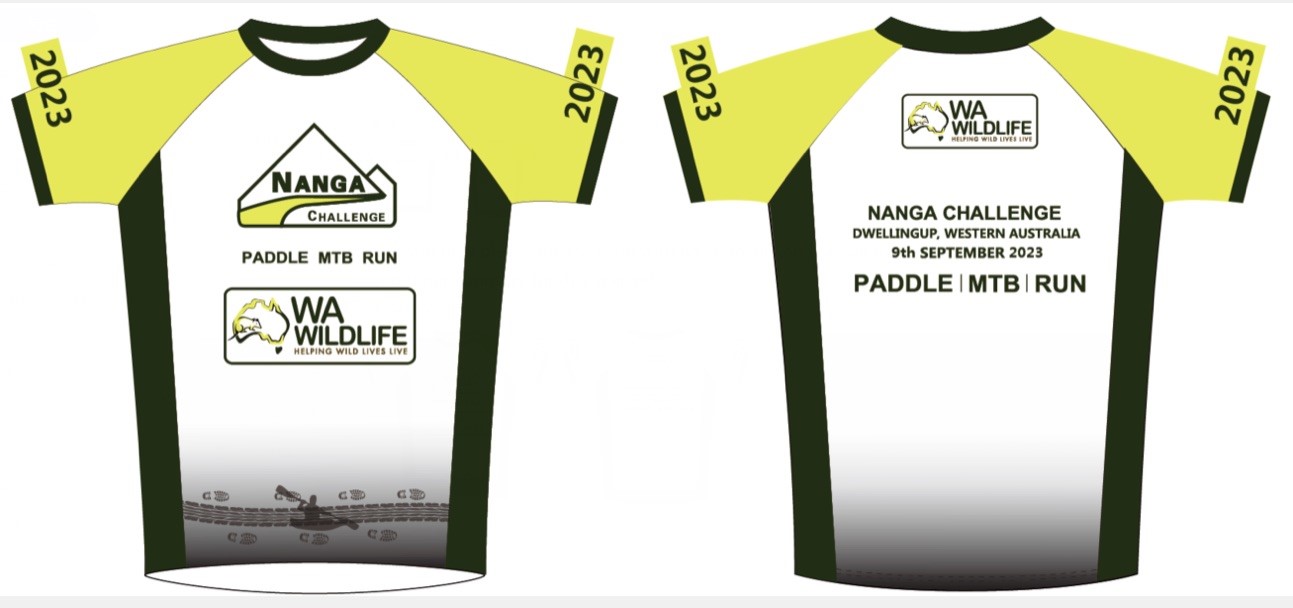 2023 Nanga TShirts
In 2020, with help of donations from event supporters and contributions from entrants entry fees, we raised just over $1500 for Zero2Hero. 
THE EVENT
The Nanga Challenge is a multi sport event with a focus on fun and challenge. It is about getting into the outdoors, challenging yourself while having a fantastic day out. The Nanga is a very good introduction to adventure racing for newcomers, and for the regular racer it is a great course to chase bragging rights over your mates.
The event starts with a downstream paddle and then returns upstream. Distances are 8 or 12kms, depending on whether you have selected the "Nice" or the "Nasty" course. After that there is a tree covered  mountain bike leg of either 15 or 23 km, where the Duathlon entries will join you, followed by a cross-country run of 10 or 13km. Participants can enter as a team, a pair or take on the course solo as an ironman or woman. There is also a DUATHLON category. Camping is available – enjoyment is compulsory.
Participants supply their own equipment and must be competent paddling in moving water and grade 1-2 rapids. If you are not sure, contact the race director to confirm suitability.
Please read the "Conditions of Entry" document. Click HERE for your copy.
LOCATION
Lane Poole Reserve is in a beautiful jarrah forest by the Murray River, just 100 kilometres from Perth. Thousands of visitors enjoy the experience of the Reserve every year. There are steeply forested valley slopes, open undulating woodlands, recreation areas and popular camping spots. The Murray River is the largest in the Darling Plateau. In winter it can be a raging torrent and in summer a trickling stream. It is a perfect location for an event that focuses on fun and challenge. Camp overnight or visit for the day. We are fortunate to have access to this beautiful place for a great event. We thank and acknowledge DPAW for their support and we encourage all competitors to do the right thing by the environment when they are in it.
THE COURSE
The Paddling Leg
This will be a number of grids hitting the water at the start-finish location. Depending on water level and entry numbers, teams and solo entrants may be on separate grids. Paddlers will head down river and for something different, back upstream again for either the short ["Nice"] 8km course or the longer ["Nasty"] 12km course. The short course will have a supervised buoy turn at Bob's Crossing. During the paddle leg there is one compulsory portage and a couple of small rapids that may be paddled in either or both directions if capable. There is a tricky corner and couple of narrow sections to paddle through. Once back at the start line, you will handover to your team mate, or get on your MTB.
Mountain Bike Leg
The mountain biking course is on gravel and leaf covered tracks with intermittent washouts and bogs. There are some  sections where the tracks are on clay and riding within your ability is suggested. The course is OK for beginner mountain bikers. It is challenging but not too hard. The Nice course participants will complete two laps, the Nasty course participants a total of 3 laps.
Cross Country Run Leg
The run leg leaves the transition and camping areas and heads up hill. Initially, it is on recognised walk trails before it moves to defined and less defined tracks and trails in the Eucalypts of Lane Poole Reserve. Some sections may not have an even surface, so running flat out may not be the quickest tactic here.
ENTRY CATEGORIES & FEES
There are five (5) categories, entry fees will be discounted for the first 25 entrants and will increase for every 25 entrants:
Iron Man/Woman [Solo] $100 to $130
Pretty self explanatory. You do all three (3) legs and can be male or female and you will need a race name
Pairs $180.00 to $210
You do all three (3) legs with another person. You can assist each other around the course. If paddling two (2) single craft must stay close together and transition together, although a preference in the paddle leg is to use either a K2 or double ski. The pair can be two males, two females or mixed. The pair has to have a name.
Relay Teams (generally of 3) $180 to $270
Most teams will have 3 members, one for each leg but it is OK for teams to have 2 members, with one person doing two (2) legs and the other doing just the one (1) leg. Teams can be all male, all female or mixed. The team has to have a name.
Duathlon (Solo) $90.00 to $130
No paddle or No run required. A 30km MTB, then a fun 12km cross-country run or an 8km Paddle and a 30km MTB
Duathlon Team of two $160.00 to $220
Adventure Pairs: With paddle craft: $170, Craft supplied by organisers: $220
What is Included in Entry Fee and What is Not:
Entry fee Includes: The race, Lunch, Tee Shirt, fun, random prize giving.
NOT INCLUDED: Park-entry and overnight camping passes are not included.
Park-entry passes have to be purchased separately either at the gate, for a discount to RAC members via their website, or through the DPAW website, click HERE
Camping at the event HQ is on a first come, first serve arrangement. With local rangers collecting fees on site.
AGE CATEGORIES   Classes may be collapsed if you don't get enough of your mates to join in
Open 16 – 39
Veterans 40 and over
Vintage 55 and over
Juniors must all be aged 16+ on race day
Veteran Team – all members aged 40 and over on race day
Any other mixture of age categories for teams enter as 'open team' category
Pairs – no age categories apply although participants must be 16 years of age or over on race day. Choose pairs men, pairs women or pairs mixed.
Age Limit
Participants must be 16 years and over on the day of the event.
Any competitors aged 16 or 17 on the day of the event, must have a parent/guardian who completes the permission section on the online entry form – under options.
EQUIPMENT
Kayak/Ski/Canoe
Any paddle propelled craft suitable for moving and white water can be used. All paddlers' kayaks (sit in craft) must be fitted with additional flotation via air bags or equivalent. All paddlers must wear an approved kayaking helmet and PFD with whistle attached. Bike helmets are not permitted for the paddle leg.
Mountain Bike
Each person doing the bike leg will require a mountain bike (not hybrid or cyclocross or electric) and an Australian Standard Bike Helmet in good condition. All participants must wear a cycle helmet at all times during the mountain bike leg. MTBs must be in good working order, especially the brakes.
Drink container
It is suggested but not essential to carry water in a camelback or other suitable arrangement.
EVENT ELIGIBILITY
As this Event includes a kayaking leg in moving water with approaching Grade 2 rapids, all paddlers must be proficient in white or moving water. Evidence can be supplied when you complete your online entry eg competed in the Avon Descent or other appropriate white water or open ocean race. If you are unsure of your suitability to participate in the paddle leg of the Nanga Challenge please contact the event organisers, Grant or Doug [0417 945 577 0r 0417 938 596] or nangachallenge@gmail.com
TIMETABLE
7.30 am Registration opens
8.30 am Registration Closes
8.40 am Volunteer Briefing at Event HQ
8.45 am Event Briefing at Event HQ – All participants must be present
9.00 am Event starts (The paddle leg is first)
9:20 Duathlon Registration Opens
9:50 Duathlon Registration Closes
10:00 am (Approx) Duathlon (Solo & Teams of 2) start [same time as first returning paddler]
11.00 am Food and drink available for participants and pre-purchased voucher holders
1.30 pm to 2:00 pm Results, Presentations and Prize draws
When completing your online entry please purchase a food voucher for yourself, your support crew and spectators as there will be no food for sale on the day.
1.30 pm Presentations and Prize giving. Person receiving the prize must be at the presentation to receive the prize. Times are approximate and may vary as required.
ACCOMMODATION & CAMPING
Dept of Parks and Wildlife staff have organised the entire CHUDITCH campground to be for our sole use for the day. As such, online booking for this area has been disabled to avoid the public booking alongside us. If you are camping, local rangers will collect fees on site. They have also agreed to allow us to use this area at a discount rate of $8.00 per person. There are no fires allowed at the CHUDITCH campsite, as the collection of fallen timber greatly reduces the natural home of this local marsupial. We will have some large gas heaters for the night-time in the communal kitchen / dining area.
Pitching a tent in the bush above the Murray River is a great way to escape from fast paced city life. You get to relax, soak up the environment and re-energize. There are other popular camping spots nearby. These are: Nanga Mill (just turn up first-come-first served), Stringers or Nanga Brook (book online via the DPaW website).
Nanga is a great social event for Ascot Kayak Club and all participants are warmly invited to join us for a relaxing and enjoyable drink or two after the event. Saturday night you get to snuggle into your warm tent and sleeping bag waking refreshed and relaxed before heading back to Perth on the Sunday ready to face the rat race.
If camping is not your scene there are lots of other accommodation options available. Click on the link below.
FACILITIES
The facilities of modern life and the city will not be available at the Nanga Challenge HQ, however, being in the beautiful Lane Pool Reserve beside the gorgeous Murray River will more than make up for it.
Facilities at the event include:
Toilets – clean long drop toilets.
Catering – Lunch is included in the price of the entry fee for each race participant. We are unable to sell food on the day so please purchase food vouchers for any spectators and support crew who will be joining you at the event, you can do this when you enter the event online. There will be no food sales on the day.
Water – There is no potable running water close by. Participants are advised to be self sufficient with regards to water and to bring enough for before, during and after the event.
Hot Drinks – There will be hot tea and coffee available.
Shelter – There is a large communal shelter to keep out of the rain, however if the weather looks bad, we suggest you bring your wet weather gear just in-case.
ENTRY INSTRUCTIONS
Online entries are open  Here  Late entries are accepted on the day for $500.00 each.
Any online queries please contact Grant 0417 945 577 or email nangachallenge@gmail.com
The online process will require all the usual personal details but importantly you must supply a correct email address so the Nanga Organising Team (NOT) can contact you if required.
If entering a team the first entry must be the person completing the online payment.
Event Payment
Preference is to use paypal to make your payment.
INSURANCE
The Event is covered by Ascot Kayak Clubs Sports Liability cover. Event participants are responsible for their own ambulance cover and personal accident insurance.
PRESENTATIONS AND PRIZES
The presentation ceremony will commence at approximately between 1.30pm and 2:00pm, when the majority of competitors have finished the Event.
Lanterne Rouge: In the Nanga Challenge, the person who is on the course for the longest and finishes last, rather than dropping out along the way, is accorded a distinction with a trophy the 'Lanterne Rouge'. The phrase comes from the French 'Red Lantern' and refers to the red lantern hung on the caboose of a railway train, which conductors would look for in order to make sure none of the couplings had become disconnected. Note there will be a cut-off for timing volunteers and for participants on the course at which time you will be advised the quickest route back and a check-point marshall will accompany you.
Winners, Place-getters, Random prize draw, Times and Results:
Where they are deserved and there are enough entries in the class / category, we will acknowledge as many as possible.
Prize-getters must be at the presentation to receive a prize
IMPORTANT EVENT RULES
You must complete all legs of the course
If in a pair you must stay within twenty (20) metres of each other at all times.
No headphones or pets on course during the event. This is for your own AND other's safety.
SPECTATORS AND PARKING
Encourage family and friends to come along and cheer you on. The event start, transitions and finish are all at Event HQ's, the hub of the event, CHUDITCH campsite.
If you have family and friends coming along who would like to be a part of the fun, consider asking them to volunteer as an event official as they can be a part of the great day out as well. All volunteers receive a free t-shirt and lunch.
EVENT BIBS
Each competitor will be provided with a number plate for their bike and an Event Bib, which must be worn at all times during the Event and must be worn over the top of PFD's and camelbacks.
Again, the bibs must be worn as the outermost garment at all times during the event.
EVENT OFFICIALS
Event Officials will be stationed at several checkpoints on the course. They will be wearing an AKC bright orange safety vest.
VOLUNTEERS
This event is organised and run by volunteers. These volunteers are Ascot Kayak Club (AKC) members who give up their time to ensure this event can happen. We would like to acknowledge the important role of all event volunteers and at AKC our volunteers are highly valued and cherished individuals. We encourage you to acknowledge these people for the contribution they make so we can have fun competing.
FIND A TEAM OR PAIR MEMBER
To find a team mate or someone wanting to race as a pair contact the Nanga Organising Team at nangachallenge@gmail.com Give a brief description of what kind of team or pair member you are looking for, what legs they will do if part of a team and remember to add your own contact details. We have a fairly good source of paddling types who might like to help out.
Directions to Chuditch Campground:
Register for Nanga Challenge!
It's time to go bush again adventure junkies. Ascot Kayak Club's multisport event in the Jarrah forest surrounding Dwellingup is set for Saturday 9th September.
Register herehttps://www.webscorer.com/register?raceid=282573