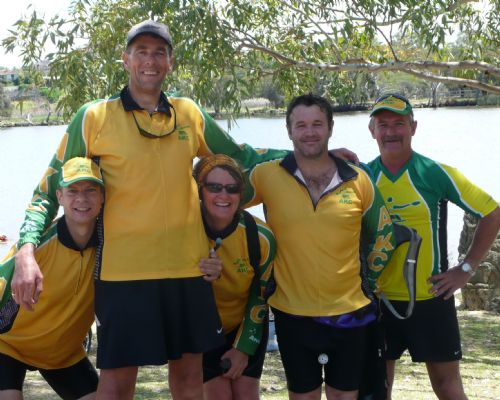 Ascot Kayak Club (AKC) is Australia's largest kayak/canoe club and has a strong focus on developing all aspects of kayaking as a sport and recreational activity in Western Australia.
We are volunteer run and provide a safe and inclusive environment where you can learn good kayaking/canoeing skills, receive coaching from experienced and qualified members, access structured training programs, compete in club and paddlesport events and gain experience and knowledge of our beautiful waterways. We're not all about competition! We have a large contingent of recreational and social members. All are welcome at AKC
INTERESTED IN JOINING?
Our membership year commences 1 October.
The membership fees are pro-rated depending on when you join.
All new Adult / Concession members are required to pay a once-off building amenity fee of $120.00.
All members are expected to make a volunteer contribution to the club each year
All members are affiliated to Paddle WA and an affiliation fee is paid from your club membership fee.
MEMBERSHIP FEES (For the 2020/2021 membership year)
| | | |
| --- | --- | --- |
| Pro-rata Category | Oct – Mar | April – Sep |
| Adult | $200.00 | $115.00 |
| Junior | $120.00 | $70.00 |
| Concession (must present an aged pension card valid in WA) | $130.00 | $75.00 |
| Family* | $480.00 | $275.00 |
*A family consists of up to 5 members, with no more than 2 adults (an adult is considered to be a person aged 18 and over). For families with more than 5 members or more than 2 adults, please see the Club Administrator for additional fees.
Voluntary Membership is also available for people who wish to assist with Club activities but are not an active paddler themselves, subject to approval by the Executive Committee. The club administrator will send your request for voluntary membership to the executive.
If you join within 2 months following completion of the club Introductory Course you will be eligible for part re-imbursement of your course fees. Please see the Club Administrator for more details.
BOAT STORAGE
Applications can be made for boat storage at the Club, subject to availability. Please see the Club Administrator for more details.
SECURITY KEYS
24 / 7 access is available to our facilities through the use of a Security swipe key. A deposit of $30 is required and we need to sight your driver's licence or other approved photo identification.
Note that before we allow you access to the Club boats we need to assess your paddling competency. Initially this is done by a simple Q&A. On water assessment may need to be undertaken with one of our senior paddling members. Successfully completing the club Introductory Course or a Canoe Course with Canoeing Down Under is proof of paddling competence.
HOW TO JOIN
New member sign-ups are held at Ascot Kayak Club on:
1st and 3rd Wednesday of each month   5.00  –  7.00 pm
4th Saturday of each month                       9.00  –  11.00am.
The Club is situated at the end of Fauntleroy Avenue, Garvey Park, Ascot.
You can pay by the following methods:
Credit Card and EFTPOS facilities are now available for payments in person. Subject to availability we can allow use of the Club's computer for online banking transfers. Please confirm with the Office Administrator before attending the office.
Cash
Exact amount is appreciated
Cheque
Made payable to Ascot Kayak Club
Bank Transfer
Please confirm the correct amount with the office administrator before paying
Ascot Kayak Club, BSB: 633 000, Account: 161337399
In the reference write M and the year your surname and house number (e.g. M14Smith53).
Please bring your receipt of payment when you present at the Club.
We require clearing of all monies before the Security Swipe key can be issued.
If paying by cheque allow 3 working days before presenting at a new member sign-up to collect your Security Swipe key.
MEMBERSHIP CONTACTS
For more information please contact one of the following: