Announcement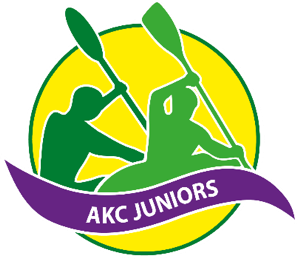 AKC Junior Program
Over the last couple of months, a group of Junior Coaches and key stakeholders have been working together to strengthen our training programs that we currently offer to our juniors, across all paddling disciplines. AKC's Head Coach and Olympian Jesse Phillips has led us in developing and defining pathways for our aspiring juniors to reach their potential. A key element of the pathway is the integration of younger paddlers across multiple disciplines. As the junior paddler develops, they can then participate in more specific training (slalom, flatwater, canoe polo) that is more to their liking and passion.
We are now excited to announce the new junior course Ascot Paddle Passportand the formation of the Foundation and Development Groups.
Ascot Paddle Passport(APP) is our new course for children wanting to learn kayak. APP is available to both the public as well as club members, aged 8+ and run over 4 weeks with all equipment being provided. APP is a game and play based course that keeps children active and challenged, while introducing them to basic paddling skills. The cost is $60 for 4 sessions and the course is recommended to all new paddlers wanting to join our Junior Program. The intention will be to run courses throughout the year and develop the program as an entry point for all new juniors wanting to participate in our Junior Program in the future.
Coran Longwood will take the role of Development Coach, overseeing the Foundation and Development Groups.He will be assisted by other talented coaches and instructors. There will be a focus on flatwater and slalom skills, as well as canoe polo. The sessions will be 1 hour long and run Saturday mornings and Wednesday evenings, and are open to all junior club members. Sessions will cost $70 per school term for one session per week or $100 per school term for two sessions per week. Fees will commence Term 2 and discounts are available to families with more than one child enrolled.
AKC wishes to acknowledge the contribution of many dedicated volunteers over the last 30 years to junior paddling at the club, we have celebrated national and international success and continue to have junior paddlers represented at both a National and International Level. Specifically, we would like to thank two very dedicated volunteers in Peter Martin (flatwater) and Greg Kippen (slalom) for their contributions over the years. We look forward to theirs and all our volunteers continued support as the baton is passed on to our new generation of coaches.
As changes occur to our current junior sessions please be patient with us as we work through teething issues; but know that we always welcome constructive feedback. During the transitional phase to align sessions with our defined junior pathway, some Junior Sessions may be continued or discontinued, so please check directly with your coaches.
Any questions or feedback please email akcpresident@gmail.comor akcdevelopment@gmail.com
Thank you